Travelling with kids can be challenging at the best of times, but nothing beats packing the suitcases for a family holiday or road trip. Whether it's a quick weekend escape, interstate trip, or overseas vacation (oh how I am longing for international travel to return…) deciding what to pack and what to pack it in always causes headaches. This week, Bags Only looks at the best luggage and backpacks for kids when traveling.
Luggage or Backpack?
When traveling as a family, it makes complete sense to buy your child their very own bag. Kids love to carry their bags – it gives them a sense of independence and responsibility.
Backpacks are great, they are easy to carry but this may see you with an additional bag to lug around. Luggage is durable and can handle whatever your kids throw at it. There's plenty of room for teddys and they are easy to maneuver. But which is best? Should you buy a kid's luggage case or a kid's travel backpack?
The answer is simple, it's great to have both! Each trip will differ and so will their luggage needs. What you need to pack will differ from a weekend trip by plane compared to a long trip on the road.
Kids Luggage
When traveling as a family, having individual cases is a real time-saver. Each child will have their toys, electronic devices, and personal items packed separately. There can be no confusion about where someones iPad will be!
Hard luggage or soft luggage – there are pros and cons for each. Soft luggage is lighter but allows you to pack more in (including items you might not necessarily need). Hard luggage is more durable but less flexible in what you can pack. This is a personal preference, but please do ensure you adhere to airline baggage restrictions.
Trolley cases with wheels are perfect for long trips or when their luggage is heavier. Ensure the trolley case is easy to maneuver (good quality wheel and trolley system) and we suggest a four-wheel case over a two-wheel case. Soft trolley cases also have external pockets, so you can easily access items from the overhead locker quickly.
Kids luggage also comes in some pretty cool colours and designs. Bags Only kids luggage range features MARVEL superheroes and Disney favourites Minnie & Mickey Mouse themed designs.  Your kids will love them!  I can't recommend our Frozen luggage and Disney luggage highly enough.  For the boys, nothing beats our Iron Man Luggage Case or Harry Potter Luggage Case.
Tip: Packing cubes!!!!!! Buy some. They make packing so much easier! We have large packing cubes, medium packing cubes and small packing cubes on sale online and in-store.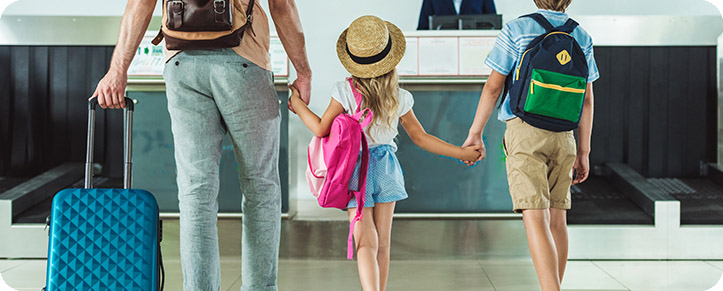 Backpacks are a great choice for shorter trips. They are lighter, easier to carry, and internal and external pockets allow for better organisation of packed items. Backpacks spread the luggage load. It's easier to carry an extra backpack than roll another heavy trolley case. Backpacks can also be stored in the seat in front when traveling by air.
Backpacks can take a beating, so investing in a good-quality backpack that will last is key. They come in an array of different patterns, colors, and characters, which makes it easy for your child to find their bag. Comfort should always be the number one priority on your checklist when choosing a backpack. Everyone's needs and body types are unique, so it's important to find the backpack that is most comfortable for you. Try them on in-store!
Check out our blog How to choose the best backpack for your trip for additional tips.
TIP: Choose a backpack that can be used at home, for school or sporting activities.
From my travel experiences, packing individual cases or backpacks for each child is the way to go. Kids do enjoy packing and wheeling their kid's luggage cases through the terminals. The type of travel, the length of travel, the destination, and the age of each child have a bearing on your decision, but it is exactly that – your decision. No one holiday is the same, so choose wisely!!