Following up from our Best Bags for Camping blog, in our first Staff Picks, we ask Bags Only's seasoned staff to give you the lowdown on the best camping bags available in-store and online.
Kosciusko Trek
Bags Only Southland staff found the Kosciusko Trek to be the best camping bag, not only for outdoor use but for kids camps and sporting activities.  The versatility and price point making the Trek the perfect choice for family campers.
The Trek is a deluxe ultralight split compartment duffle bag.  It's strong and sturdy and will handle whatever your trip throws at it. The split compartments allow you separate your items more easily, whilst large end pockets also provide additional storage options. Given the bag has a top loading compartment, you can easily access items whilst your bigger items remain protected in the lower compartment. The size (72cm) is perfect for fitting everything you need in.  100 litres (volume) is sufficient for any travelling party and the trolley handle and straps allow the choice for drag or carry. We did mention versatility, this wheel bag is not to big for those grade 6 students attending camp or lugging all your kids sporting equipment to and from home.
Currently selling at $89.95 – and available in three styles this is our choice!
Bells Beach Barrel Bag
Staff at Uni Hill Bundoora love the Bells Beach Barrel Bag, its strong canvas construction giving customers a durable and versatile tote bag.
We have a large range of duffle bags and suitcases in stock that are ideal for camping and particularly ideal for school camps. We see a lot of customers looking to purchase a duffle bag that can be used for multiple purposes. The Bells Beach Canvas Large Barrel Bag is our  recommendation.  This canvas bag has one main large compartment and is a bag made tough! Perfect for active lifestyles, the barrel bag comes with a detachable adjustable shoulder strap for easy hands-free use. It's lightweight, has heavy duty zippers and if you're looking for something a little bit smaller, then there is a smaller bag available.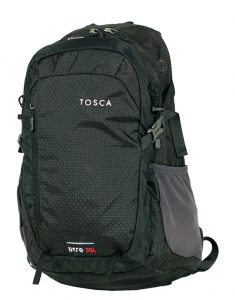 TOSCA 35lt Backpack
Australian owned brand TOSCA Travelgoods have produced a great range of travel backpacks that fits into the market perfectly.
This lightweight travel backpack is perfect for the hiking beginner or someone needing a backpack for a day of exploring.  The 35 litre backpack is priced accordingly and proving to be a hit with those looking for a well priced backpack. Weighing in at only 682gms, made from a strong, durable mesh and heavy duty zippers make this backpack the perfect buy. Additional features include several compartments, padded laptop compartment, side pockets for your water bottles and best of all, a handy pull over rain jacket for your back pack. With three colours to choose from, take your pic!
RRP is $109.95, on sale for $59.95
Caribee Sky Master 70L II Wheel Travel Pack
Geelong's Bags Only Factory Outlet is the place to be if you're in the market for hiking and camping backpacks.
The Caribee SkyMaster is our top pick for seasoned hikers and campers.  The pack is designed to help you get all of your belongings to your destinations in one bag. I travel wheel backpack is both functional and stylish. Caribee is a well known outdoors brand, its reputation for quality and durability well established.

This particular travel wheel bag is lightweight and its concealable harness system makes carrying this pack (when necessary) a pleasure. Its packed with features, including detachable day pack, multiple internal zippered compartments and handy wheel protectors.
* Only available at our Bags Only Factory Outlet in Geelong. Learn more here.