In our previous blog, we looked at the choice between luggage and backpacks when travelling with kids. Now we take a closer look at the best kids' luggage cases and kids backpacks available online and in-store at Bags Only.
Kids Luggage cases
Kids do enjoy packing their bags or wheeling their luggage cases through the terminal. They will also love wheeling their own case featuring their favourite movie and cartoon characters.
When it comes to hard or soft case luggage, carry-on-sized cases should be more than enough to hold all their precious items. The generally accepted carry-on luggage suitcase size is 22 inches x 14 inches x 9 inches (that's roughly 55cm x 35.5cm x 23cm). Soft case luggage is lighter and features external pockets providing easy access to packed items. Hard case kids' luggage is more durable but less flexible in what you can back.
There is also the conundrum of buying for the now and buying for the years ahead. A pink Frozen luggage case featuring Elsa and Anna might be the choice for 5-year-old Eve, but will Eve want to take that same Frozen designed case to grade 6 camp? Our advice, let the kids choose! If they love it, they'll be more likely to wheel the case for the whole trip.
Bags Only stocks a large range of hard and soft carry-on luggage from the biggest brands. If you're looking for a Spider-Man, Captain America, Frozen, Mickey Mouse, or Batman luggage case, you've come to the right place. If you're looking for something more contemporary, there's plenty of great designs to choose from TOSCA, American Tourister & Samsonite Luggage. Pricing for carry-on cases can vary, depending on the brand and added features. A good quality case can set you back anywhere between $80 and $150 If you're looking to buy Australian-owned, you can't go past TOSCA Travelgoods.
Kids Luggage (Licensed)
Kids will love the range of Disney Luggage, MARVEL Luggage and DC Comics Luggage. They are durable, feature all the modern day components and look great. They are also easily identifiable on the luggage carousel.
Bags Only have some awesome licensed kids luggage cases available. There is plenty of choices when it comes to characters, but also in shapes and size. New designs, new styles and new characters are now in-stock!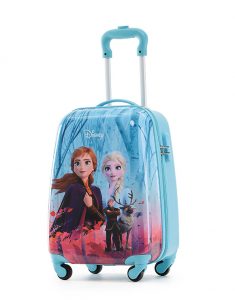 Frozen Carry on
This Disney Luggage case is lightweight, durable and features a mirror finish outer shell with fully lined interior, easy glide wheels (x4) and fixed combination lock. Girls of all ages can enjoy their own luggage case packed for for their next adventure. The 17″ case provides plenty of space for all their belongings. Buy the Frozen Carry On online for $89.95.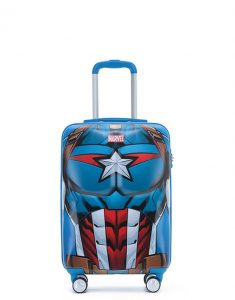 Captain America Carry On
This case features a new 3D moulded design, contoured to the shape of Cap's suit.  Made from a lightweight, strong and durable polycarbonate shell, it provides excellent protection for your packed goods. The Captain America trolley case is slightly larger (19 inches) and is available online for$109.95
Ride On Luggage
Sit-On, Ride-On or Carry-On, keep toddlers entertained through the airport with this versatile & multi-functional trolley case. They are the perfect kid's travel companion for vacations, short breaks, sleepovers and playing at home. Designed for kids over 3 years of age, this hard wearing lightweight plastic luggage case for kids allows the child to ride on and toe along the suitcase.
See the range of kids ride on luggage here.
Kids Travel Backpacks
The choice for kids' backpacks is big! Kids backpacks come in all different shapes and sizes, colors, designs, and even wheels! They are light, versatile, and great for all types of travel.
If you don't need a big bag or suitcase, backpacks are a much better investment. In previous blogs, we have discussed what to look for when buying backpacks. The size, comfort, material, padding, zippers & compartments all important features to take into account when making your purchase. Read the blog here in full.
Depending on the age of the child, there's plenty of options available. For those aged 7 and below, our licensed backpack range is perfect, and for those a little older looking to move on from cartoon designs, there's also plenty of variety. Wheel bags make a great option, allowing for carrying and wheeled movement.  We haven't forgotten teens, with a great range of teen backpacks available.
Adult backpacks, although more expensive will last longer and be more durable.  But when buying for kids, something they really want tends to hold sway!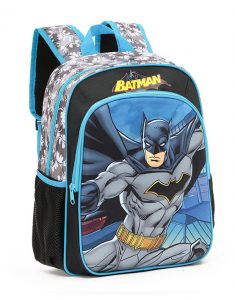 Batman Backpack
This brand new 15″ Batman Backpack (38cm high) features an awesome 3D character mould of the caped crusader.  The backpack comes with side pockets for drink bottles and front and large main compartment providing plenty of room for school books, lunch boxes and more. Buy the Batman backpack now for $29.95. (Also available in Spider-Man & Avengers)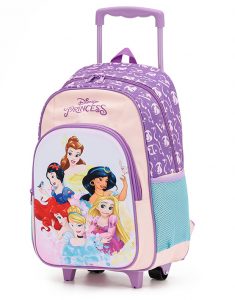 Disney Princess Trolley Backpack
This 17″ Disney Princess Trolley Backpack with 3D character mould. The trolley backpack features adjustable shoulder straps, zippered front pocket, large main compartment and netted side pocket for their drink bottle.  Wheels and Trolley handle allow for easy carry. This Princess trolley backpack retails for $39.95 online.  (Also available in Frozen & Minnie Mouse)